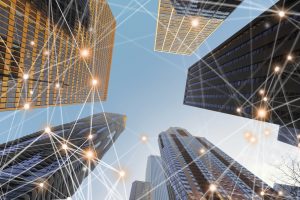 Blockchain technology is a digitized, distributed ledger that immutably records and shares information using software protocols and advanced cryptology. The development of blockchain-based smart contracts—self-executing software algorithms integrated into a blockchain with trigger actions based on pre-defined parameters—has made it possible for parties to automate the process of executing commercial transactions between counterparties in a more direct, trustworthy and efficient manner.
Tokenization is the process of representing a fractional ownership interest in an asset with a blockchain-based digital token. Each token represents direct ownership of an asset, such as a parcel of real estate, a share in a company owning real estate, a participation in a real estate investment fund, property-related payment rights (such as dividends, distributions or a share of profits), or any number of potential derivatives. Amid increasing interest in technology applications for real estate assets, or "Proptech," the industry recognizes that tokenization has the potential to revolutionize real estate transactions and disrupt established business models.
Real Estate Tokenization
Real estate tokenization generally follows a five-part procedure by the offeror:
Asset Identification—identification of the commercial real estate asset, which may involve its acquisition, financing and appraisal;
Smart Contract Generation—compliance with securities laws and the creation of a smart contract;
Token Creation—determination of the number and type of tokens and selection of an exchange platform;
Marketing and Distribution—advertising of the offering, confirmation of investor accreditation and listing of tokens on the exchange through a security token offering (STO); and
Post-Listing Support—ongoing support for investors and distributing profits or other rights to payment.
Tokenization, by reducing or eliminating the costs of intermediaries and lowering minimum investment requirements, offers the potential to unlock trillions of dollars in illiquid global real estate assets to retail and institutional investors in an open marketplace.
Obstacles to Commercialization
Regulatory uncertainty continues to pose the most significant impediment to real estate asset tokenization. Security regulations vary significantly from jurisdiction to jurisdiction and may apply broadly not just to the creation and initial offering of tokens but also to trading on secondary markets. Additionally, no international regulatory framework currently exists.
Several technical challenges to tokenization's adoption also remain unresolved. Cybersecurity and the risk of hacking have plagued the rollout of cryptocurrency since its inception. Additionally, since tokenization remains a nascent technology with low public awareness, stakeholders have only just begun to develop the exchange platforms, custody services, user communities and, most importantly, political and institutional support necessary to realize this technology's benefits.
Recent Developments
On July 5, 2017, BNP Paribas Securities Services announced its creation of a platform that enables private companies to issue securities through blockchain technology. This platform can register commercial real estate and other transactions on primary and secondary markets across the globe and serve issuers, shareholders, investors, lawyers, notaries, accountants, banks, and crowdfunding platforms. On October 7, 2020, BNP, in partnership with Curv, a cloud-based digital asset security infrastructure for financial institutions, announced the successful completion of a proof of concept to transfer security tokens securely between market participants.
Ubitquity LLC has offered a "Blockchain-as-a-Service (BaaS) platform since September 2018 for users to securely record and track property." It provides title companies, municipalities, and custom clients with a clean record of ownership through the blockchain. Transactional information is automatically recorded onto a blockchain that is interoperable with unspent transaction output (UTXO) UTXO based blockchains, including Bitcoin, Ethereum, Hyperledger and MultiChain. Ubiquity estimates annual cost savings of close to $4 billion from reduced errors, $550 million from legal claims, and $3 billion from claim losses. On October 20, 2020, Ubitquity announced that it has commenced offering tokenization management solutions for real estate, title and other companies utilizing a FINMA-approved platform for tokenization, including the ability to assist with U.S. regulatory-compliant token sales.
On July 12, 2020, the Public Private Execution Network (PPEX), an alternative trading system (ATS) for exempted digital assets and other private securities, announced the successful completion of its SEC registration. PPEX offers users the ability to trade exempted digital assets and other private securities from the protection of a regulated platform, making it possible for users to trade tokenized securities peer-to-peer. This development demonstrates further competition in the sector, as well as a more responsive approach by SEC regulators to the blockchain space.
In November, 2018, New York-based Factora became the first company to tokenize a parcel of real estate in Manhattan, comprising a luxury East Village condominium with 12 units and a total appraisal value of $36 million. In August, 2019, Smartlands, the first regulated blockchain-based crowdfunding company in the UK, became the first company to tokenize a UK-based property by successful closing a STO involving a £12.06 million student housing complex in Nottingham, UK.
On February 27, 2020, Red Swan, in partnership with tokenization platform Polymath, announced that it had tokenized over $2.2 billion in real estate assets. The issued tokens represent 16 properties, including mid-rise and high-rise apartments in California, New York, and Texas, and a 150-acre hemp farm in Canada's Ontario province. Red Swan has indicated it has 30,000 accredited investors registered to use its platform, has plans to tokenize a further $4 billion in property, and will profit by keeping a percentage of the equity sold.
On July 8, 2020, Hamburg-based KlickOwn AG announced that it had successfully completed a €1.5 million initial bond offering for the property "Historisches Lüneburg," located in Lüneburg, Germany, conducted exclusively via tokenization using the custody service of Munich-based Bankhaus von der Heydt for the safekeeping of investor tokens.
On August 30, 2020, MountX Real Estate Capital announced that it had licensed the Vertalo platform to design and launch 15+ digital real estate projects in Mexico and Canada in 2020 and early 2021. On November 7, 2020, they announced the completion of the first successful tokenization of real estate in Mexico, to date, including two apartments in Queretaro, Mexico, for a total price of $5.2 million Pesos.
On September 10, 2020, REINNO, a Connecticut-based company announced its launch of a marketplace for tokenized commercial real estate, including five offerings worth over $237 million available to accredited investors worldwide. Finally, on October 5, 2020, WeInvest Capital Partners announced that they had selected Tokeny Solutions to tokenize the first real estate fund in Luxembourg.
Conclusion
The commercial real estate industry has yet to realize the potential of blockchain-based tokenization and the ways it can be applied to address existing market inefficiencies. However, momentum is developing as this technology and its application to real property transactions becomes better understood.