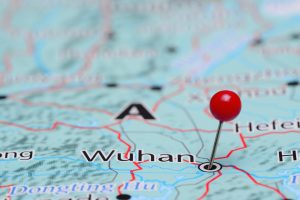 If the coronavirus pandemic continues to spread in the United States as it has in other countries, drastic expansions of hospital and quarantine facility capacity are likely to be necessary. In the hard-hit Seattle area, several temporary facilities are already under construction, including a 200-bed temporary quarantine and isolation center built on a soccer field. China's response to the initial outbreak in the city of Wuhan demonstrates how rapidly authorities can add capacity in an emergency.
As thousands of citizens became ill with COVID-19, China built two hospitals in Wuhan over the span of just days. Time-lapse videos such as this one show how remarkably quickly the hospitals were built. Construction on the Huoshenshan Hospital (shown in the prior linked video) began on January 23 and finished eight days later. A second hospital, Leishenshan Hospital, began construction on January 25 and finished 12 days later. Square footage information on both hospitals has been inconsistently reported, but Huoshenshan Hospital has a capacity for 1,000 beds, while Leishenshan Hospital has a capacity for 1,600 beds.
Even for China, which has a track record of building large-scale projects at lightning speed, a project manager who worked on the construction of the Wuhan hospitals estimated that such a project would have normally taken two years to build. How did China build a hospital at an average of 10 days? Here are a few factors that made it possible:
Prefabricated units
The use of prefabricated units allowed for the construction of the foundation to occur at the same time as the construction of the building envelope. The prefabricated units were equipped with medical equipment and ventilation systems.
Thousands of workers and machines worked 24 hours a day.
More than 7,500 carpenters, plumbers, electricians, and other workers labored around the clock to construct Huoshenshan Hospital. A worker told CGTN that he had been working for nine days and only slept two hours in three days. Local Chinese media reported that more than 35 diggers and ten bulldozers were dispatched on the first night of construction.
Existing design
China had experience with speed building before. Back in 2003, China built the Xiaotangshan Hospital in Beijing in just seven days in response to the SARS outbreak. The Chinese state media has reported that the Wuhan hospitals were able to be modeled on the design of the Beijing hospital, helping to speed up the construction process. China Daily reports that the complete design of the Xiaotangshan Hospital was unearthed in just 78 minutes and handed over to a design firm in Wuhan. The Wuhan design team then came up with a design for the Huoshenshan Hospital in 24 hours and had finalized drawings within 60 hours. Some sources have said, however, that the design of the hospital could not be replicated for the Huoshenshan and Leishenshan Hospitals, so a complete redesign was needed. In either case, the design of the Wuhan hospitals certainly was done in record time.