The 20 collegiate teams competing in the U.S. Department of Energy Solar Decathlon 2013 and XPO are gearing up for the start of the Decathlon on October 3. This award-winning program challenged 20 teams to design, build, and operate solar-powered houses that are cost-effective, energy-efficient, and attractive with the ultimate winner being the team that best blends affordability, consumer appeal, and design excellence with optimal energy production and maximum efficiency. The competition houses will be open to visitors for 8 days from 11 a.m. to 7 p.m. daily: (A) Thursday, October 3 through Sunday, October 6, 2013, and (B) Thursday, October 10 through Sunday, October 13, 2013. The event is open to the public free of charge.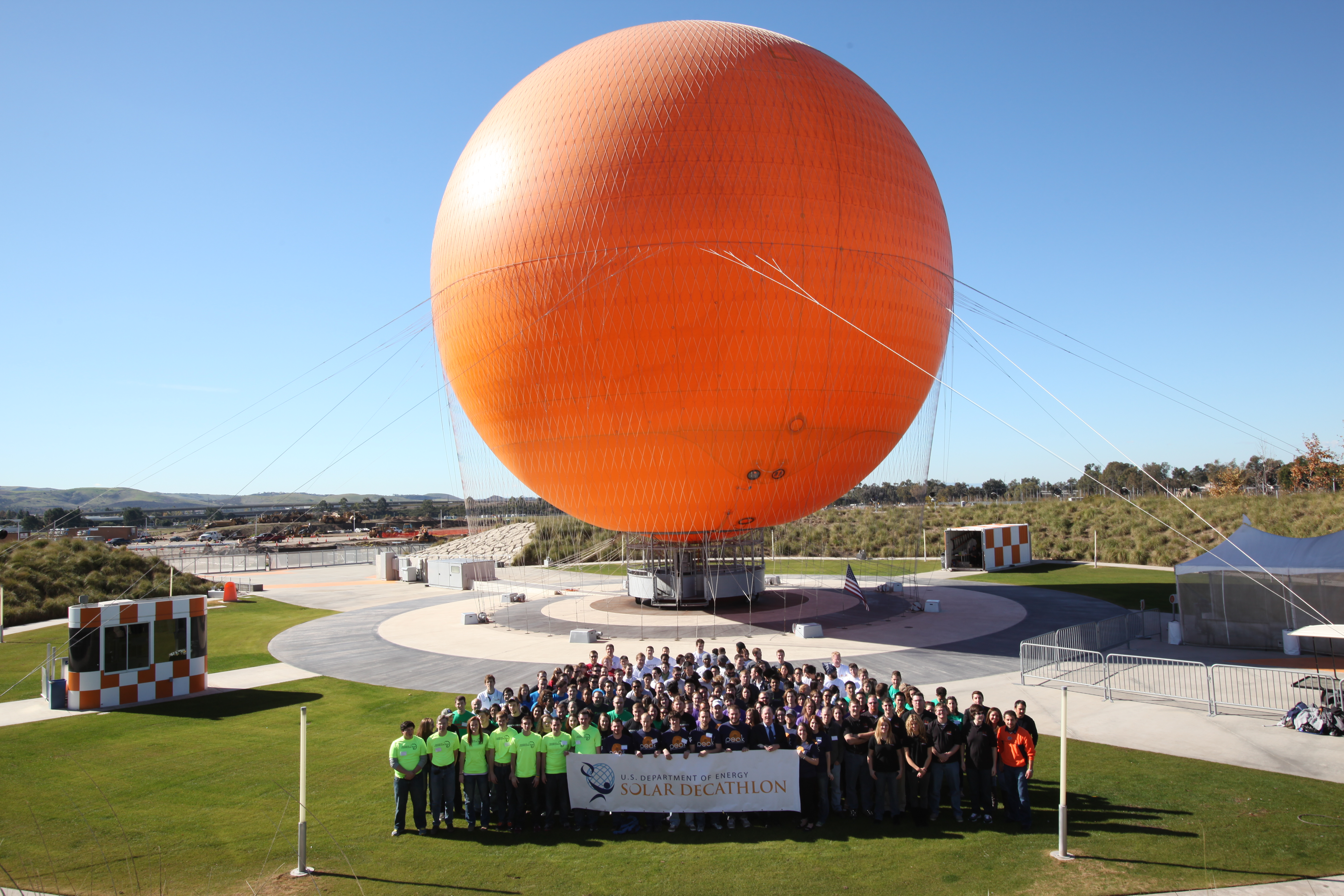 After successfully maneuvering through the rigorous selection process, the 20 chosen teams spent two years designing and building a solar-powered house that will be cost-effective to build, energy-efficient and attractive. If that were not enough, their houses must be capable of transportation to the Orange County Great Park in Irvine, California (distances ranging from 41 miles to 16,000 miles). Since the shipping containers arrived in Irvine, the 20 teams have been focusing on reassembling their houses, appliances and furniture for the public exhibit. The teams have only 9 days to reassemble their houses before the start of the competition. As the houses near completion of the reassembly process, they will undergo a variety of inspections, including building, electrical, plumbing, mechanical, and final safety inspections, to ensure compliance with local building codes.
Like the Olympic decathlon, the Decathlon consists of 10 contests designed to gauge how well the houses perform and how livable and affordable they are. Each contest is worth a maximum of 100 points and teams can earn points 3 ways: (1) task completion, e.g., cooking, washing dishes, and doing laundry, (2) monitored performance, (3) jury evaluation. Jurors who are experts in their field (such as architecture, engineering, and communications) award points for features that cannot be measured (such as aesthetics and design inspiration). Contests based on task completion or monitored performance are called measured contests; contests based on jury evaluation are call juried contests. The 10 Decathlon contests are:
—Architecture Contest (juried)
—Market Appeal Contest (juried)
—Engineering Contest (juried)
—Communications Contest (juried)
—Affordability Contest (juried)
—Comfort Zone Contest (measured)
—Hot Water Contest (measured)
—Appliances Contest (measured)
—Home Entertainment Contest (measured and juried)
—Energy Balance Contest (measured).
The 1st, 2nd, and 3rd place winners of these contests will be announced at 10 a.m. in Hangar 244 at the Orange County Great Park: (1) October 10 — Affordability Contest and Market Appeal Contest, (2) October 11 — Communications Contest and Architecture Contest, and (3) October 12 — Engineering Contest. On October 12 at 10 a.m., the other winners of the Decathlon contests will be announced and the competition awards ceremony will take place at Hangar 244 of the Orange County Great Park.
Docents will be available on a first-come, first-served basis to provide 30 to 60 minute walking tours of the Solar Decathlon village with tours departing every 15 minutes from each end of the Solar Decathlon village. Each Decathlon team will provide tours of its competition house during public exhibit hours.
The XPO itself will feature the SunShot Innovation Pavilion, the Bosch Community Fund Powerful Ideas Classroom, the Transportation Zone, the Palm Court Arts Complex, the XPO Food Pavilion, the Foundation for the Great Park Powerful Ideas Symposium, the Competitors Pavilion, the Farm + Food Lab, the ABC Green Home. The XPO.org provides information for guests of the Decathlon and XPO, including driving directions from Interstate 5, Interstate 405 and the 133 Freeway/241 Toll Road.
Additional Sources: Oct. 3-13: U.S. Department of Energy Solar Decathlon 2013 & XPO; The-XPO.org; U.S. Department of Energy Solar Decathlon; Energy Blog
Photo: U.S. Department of Energy Solar Decathlon 2013 collegiate teams gather at Orange County Great Park in Irvine, Calif. on Friday, January 11, 2013 for an all-team photo taken by Stefano Paltera/U.S. Department of Energy – Creative Commons.