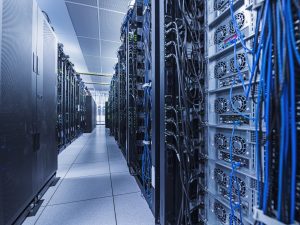 Due to the rapidly increasing amount of data generated and consumed on the internet, an opportunity exists for commercial real estate investors, lenders, developers, green energy providers and others to develop data center facilities. Social media, streaming services, cryptocurrencies, the internet of things and other innovations have resulted in data center supply shortages. AI technologies, such as ChatGPT, require vast amounts of computing power. And, as AI demands grow, data center operators need to adapt the infrastructure to address cooling requirements in a sustainable manner.
A bottleneck in the United States has fueled investment opportunity for data centers. JLL recently noted that most of the supply to be delivered in the United States through the end of next year has been leased already or is bound by exclusivity arrangements. McKinsey reported that data center demand in the United States alone is forecasted to grow by an estimated 10% per year through 2030. The United States accounts for approximately 40% of the global demand, followed by Germany, Britain and China. Northern Virginia is the world's largest data center market with over 275 facilities, and Silicon Valley, Dallas/Ft. Worth and Chicago are seeing record construction activity. In Europe, data center growth is occurring in London, Dublin, Frankfurt, Amsterdam and Paris. Brazil's inventory of data centers is growing the fastest in Latin America, followed by Mexico, Chile and Colombia. In the Asia-Pacific region, Sydney's inventory grew 30% in 2022, and strong growth is evident in Tokyo and Singapore.
Notwithstanding the growth of the large cloud providers, including Amazon Web Services, Google Cloud Platform and Microsoft Azure (the "hyperscalers"), companies and government entities also continue to invest in their own data centers or lease space in colocation centers. Inconsistent data transfers, data loss and service outages are not uncommon in the public cloud. Many companies find that the public cloud is not suitable for data that needs to be analyzed in as close to real time as possible or in strict confidence due to the proprietary nature of the information collected. A facility close to a company's operations also helps with privacy regulations that require certain types of data to be stored near their point of origin. Colocation providers are attractive to users because they lease out the space and typically provide network capacity and power, as well as the cooling equipment that reduces the temperature of the servers. Even the hyperscalers need these providers to meet the growing demand.
Accordingly, opportunities exist for developers of all types of data center facilities in primary and secondary markets. On one end of the spectrum, public cloud providers are developing facilities that can be as large as sports stadiums for the primary purpose of data storage. On the other, operators are developing smaller facilities and colocation options closer to user operations and devices to minimize latency, including the expanding market for "edge computing" solutions that permit time-sensitive data to be processed quickly. Both conventional data centers running workloads with standard, general purpose chips and purpose-built AI data centers with high performance chips, such as Nvidia's graphics processing chips, are needed. For example, in early August, Coreweave, a data-center startup based in New Jersey, announced that it had secured a $2.3 billion loan, with backing from hedge fund, Magnetar Capital and private-equity firm, Blackstone, to construct AI-ready data centers.
Despite the rapid growth of opportunity for data center development, challenges remain. A worldwide shortage of available power constrains the growth of the data center market. Data centers consume between 10 and 50 times the energy per floor space of traditional commercial office buildings. In 2022, estimated data center electricity consumption made up around 1-1.3% of global demand. Ireland's state-owned electric power transmission operator, EirGrid, has stated that it will not accept new applications for connections of data centers to the grid in the Dublin area until 2028. Singapore is the world's most power-constrained data center market and has the highest rental rates at $300 to $450 per month for a 250-to-500-kilowatt requirement. Virginia has over 25% of the data centers in the United States, and they consume 20% of all electricity demand in the state. Dominion Energy, Virginia's main electric utility, is finding it difficult to transmit sufficient power to new facilities, even if power generation is not lacking. Silicon Valley Power, which supplies electricity to Santa Clara and many prominent tech companies, has maxed out grid capacity in some areas and may not be able to energize new substations until 2028. Power availability, therefore, is a significant factor in the feasibility analysis for developers.
Backup systems for data centers often rely on natural gas and diesel fuel, which can detract from efforts towards greener energy. Energy demand required by data centers has created opportunities for renewable energy suppliers, as data center owners sign power purchase agreements with them in order to meet clean energy goals. Earlier this year, Google entered into a power purchasing agreement to buy 150 megawatts of wind energy from Ørsted, a Danish company operating wind farms in the United States. Some smaller data centers are candidates for on-site renewable energy sources, such as solar panels, or for entering into alliances with other smaller providers to invest in green energy plants. The sustainability record of a data center operator can be a material factor when a company decides what operator to contract with. Additionally, according to a report by CBRE, the availability of electricity and skilled electricians drives many decisions regarding where to locate data centers.
Water needs are also expanding. NPR has reported that a mid-sized data center will consume around 300,000 gallons of water each day, which is the water consumption of as many as 1,000 households. Government officials in Arizona have received criticism for approving new data centers during a drought because data centers can require millions of gallons of water each day for cooling. Additionally, water in data center cooling towers can evaporate and leave behind "blowdown," which is a form of salty wastewater that must undergo treatment by a local utility. Efficient cooling is a critical determinant of a data center's profitability and the cost of downtime due to overheating can be high. There are solutions to the water-use problem, such as building in cooler climates and using non-potable renewable water sources. Apple, for instance, uses treated wastewater to cool some of its data center facilities.
Developers also need to overcome obstacles associated with local planning and permitting restrictions and with neighborhood opposition. A zoning change for 2,100 acres near Manassas National Park, known as the "Digital Gateway Project," was supported in Prince William County, Va., earlier this year, but there was significant local resistance from county residents. The Chairman of the Board of Supervisors lost her re-election bid in a June primary due to her support, and litigation involving two property owners who want to terminate their sales contracts slowed the process. In late October, the County planning staff issued a surprising new recommendation that the planning commission deny the three rezonings associated with the controversial project because of the lack of information provided by the developers, including the location of the electrical infrastructure. In addition, the project was deemed environmentally unfriendly because it would adversely impact the battlefield and a nearby state park. Legislation has been introduced in Germany to mandate how data centers are run, including permitted operating temperature ranges. Regulators also want operators to harness excess heat to warm residential homes.
In 2022, private equity activity was responsible for around 90% of data center deals in the United States. McKinsey has noted that data centers attract the interest of investors due to the steady, utility-like cash flows and risk-adjusted yields. According to JLL, the data center market continues to see a variety of lenders, including life companies, banks, debt funds and CMBS/SASB. AI, along with other newer technologies, such as streaming, gaming and self-driving vehicles, will spur innovations in data center design and technology as operators aim to deliver the capacity that meets the increased power density requirements of high-performance computing. Secondary markets with robust power supplies stand to benefit from the growing demand for facilities.