UPDATE: Sacramento Business Journal, March Madness coming to Sacramento for the first time since 2007 (Nov. 17, 2014) ~ The Sacramento Business Journal confirmed that "[o]n Monday, the National Collegiate Athletic Association said Sacramento will host the first two rounds of the 2017 Division I Men's Basketball Tournament in the new downtown arena." The new arena is expected to open the fall of 2016.
Sacramento Business Journal, Demolition for future downtown arena begins Friday (Jul. 30, 2014)
Recently it has been confirmed that demolition for the new Kings' arena is scheduled to commence in late July 2014. The demolition effort will include 3 square blocks of Downtown Plaza.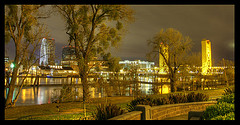 By late December, the construction site is expected to include a temporary, 30-foot-deep canyon where the mall shops once stood. Although barriers will surround much of the worksite, it has been reported that viewing areas will be set up on two sides of the mall, allowing onlookers to catch a glimpse of the demolition and construction efforts.
Hundreds of construction workers are expected to be involved in the Arena project, working from 6 a.m. to 11 p.m., Monday through Saturday, with a few 24-hour shifts expected. The outside shell and roof of the new arena are expected to be completed by the fall of 2015 and, reportedly, Kings officials are confident that the new facilities will be completed in time to open the 2016 NBA season.
Additional Sources: CBS Sacramento, Court Ruling Clears Way For Sacramento Kings Arena Construction To Begin (Jul. 25, 2014); Sacramento Business Journal, Tentative ruling denies preliminary injunction against arena construction (Jul. 24, 2014); The Sacramento Bee, Mall demolition for Sacramento Kings arena to start in late July (Jun. 25, 2014); Sacramento Kings Arena Plan Headed to Planning Commission April 10; Latest Concepts for Sacramento Kings Arena Unveiled; Turner Construction Company to Build New Sacramento Kings Arena; Sacramento Kings Announce They Will Be The First Pro Sports Franchise To Accept Bitcoin
Photo: Hey Paul, Downtown Sacramento – Creative Commons