On August 9, the U.S. Court of Appeals for the Fifth Circuit, in an unpublished opinion, decided the case of Friends of Lydia Ann Channel v. U.S. Army Corps of Engineers, v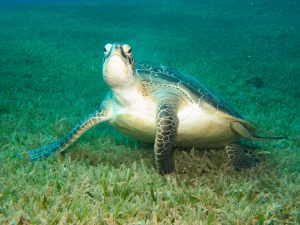 acating the preliminary injunction issued by the U.S. District Court for the Southern District of Texas in March of 2017. The injunction halted the operation of a barge mooring facility that had been authorized by the U.S. Corps of Engineers to operate in the Gulf Intracoastal Waterway near Port Aransas and the City of Corpus Christi, TX.
The basis of the injunction was the alleged endangerment this facility posed to two endangered turtle species found in the Lydia Ann Channel.
The Lydia Ann Channel is part of the Gulf Intracoastal Waterway along the Texas coast. The Channel, about 1500 feet wide, lies next to Port Aransas and close to the Port of Corpus Christi, a bustling Texas maritime center. Commercial and pleasure craft, including hundreds of barges, traverse the Channel each month.
On appeal, the Fifth Circuit observed that the Endangered Species Act (ESA) claim was "barely defended" in oral argument and the plaintiffs conceded that members of the Group simply "did not want all these barges here." The mooring facility was authorized and constructed to provide a location where barges can be moored temporarily. Both the U.S. Corps of Engineers and the Texas Land Office provided the necessary authorizations, although the U.S. Corps of Engineers later rescinded its authorization.
The Fifth Circuit held that neither the ESA nor the National Environmental Policy Act (NEPA) provides a basis for granting the injunction. The Fifth Circuit did not find any evidence in the record that revealed that the turtles faced a threat of "reasonably certain imminent harm," and that all of the criteria a court routinely uses to review the appropriateness of such an injunction were totally dependent on the inadequately supported arguments advanced by the plaintiffs.
In addition, a NEPA challenge, based on the failure by the U.S. Corps of Engineers to prepare an Environmental Impact Statement (EIS) can only be maintained under the Administrative Procedure Act (APA), and a federal court cannot enjoin a non-federal entity based on the conduct of a federal agency by means of an APA lawsuit.
Photo:Prilfish- Green Turtle – Chelonia mydas – Creative Commons