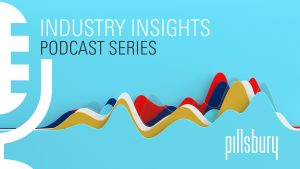 In episode 17 of Industry Insights podcast, host Joel Simon and Christian Salaman discussed the changes the hotel and hospitality industry are undergoing.
Joel Simon: Christian, you have a really great practice with an emphasis on two industries, one of which seems relatively insulated by the unusual circumstances we're facing today and the other which has been rocked pretty hard. It's the second one I'd like to focus on today. Can you start us off with a brief discussion of the status of the hotel business and what a recovery might look like for that sector?
Salaman: Absolutely. Obviously, it's been tough out there for anything in the leisure industry. Generally, in hotels specifically, and you know recovery has been slow. Now whenever you think about the hotel industry you need to think about different classes of hotels and different market locations of hotels. There are definitely some spots that are less painful than others. I'm working on both hotels that are already existing and maybe refinancing and doing a renovation or buying and selling or changing their managers or their franchisors. But there are also some things in the pipeline and many of those things will continue to happen to some degree. During the latter half, it'll be really interesting to see what happens with the pipeline everybody's predicting. Some projects that people were thinking about developing are not going to happen or they are going to move at a much slower pace than originally planned. Of course, that's just here in the U.S. This is an international reality and our hospitality practice touches the entire world. In particular, I'm always working on projects in Mexico, in Canada and the Caribbean … sometimes matters in Europe. It's the same reality when you think about the different kinds of classes, the different marketplaces and it will be interesting to see how it all shakes out. It definitely means a lot of difficult times for the whole variety of players in the industry—for not just months but probably years to come.
Simon: I know the industry has been hobbled with many distressed projects. Can you tell us about the different players and how they've been affected and the pressure points that have come into focus in the past few months?
Salaman: One of the first things that people start talking about—it's certainly in all the hospitality presses—are the lenders. I was reading an article about CMBS and the reality is that many hotels are financed through CMBS. You just look at the stats and the number of projects that are already in default—it's kind of staggering. And not only will that have all kinds of repercussions and shake outs, but litigators and everything are already hanging out there in the mix. For the most part, the last few months have been lenders granting forbearance because there's really nothing else to do. From a practical perspective, how lenders will start behaving will be interesting. Which ones actually want to take the keys back to a hotel. The same thing is true in the mezz sector. So many hotel projects have a level of mezzanine financing, and those folks, if anything else, may be the owners of hotels soon even if the senior lender stays in place and things don't shake up too poorly. Part of that reality is obviously the owner's side in that shuffle. Even if the levels of debt are worked through in some relatively positive manner, owners are already shuffling their equity looking for new partners to shore things up. There are even some projects that have filed for bankruptcy already. And then the last piece that I always think about, in part because I spend a lot of time working on hotel management agreements and the like, is that there's this whole other aspect: there are the lenders, there are the equity sources for the owners and there are the owner developers themselves, whoever is sponsoring or otherwise in control of the project. In the hotel industry, you can't ignore the flags. You can't ignore the managers. There are plenty of projects that don't fall within that, but so many do, and that's been particularly ugly. Most of those players, if not all of them, make money based upon the top line of revenue, and revenue has been next to nothing. Many hotels remain closed today, and some are going to remain closed until next year. It's very difficult on the big-name brands and then the smaller managers. So you will definitely see some of them fall out of favor. Either because the owners are disappointed with them and they want to move on or perhaps some of them will just have financial problems themselves. The big brands have been doing a lot to shore up their financial positions, but the smaller managers have less opportunities to do so.
Simon: It sounds like we're seeing a number of different industries affected in a similar fashion, and I assume the hospitality sectors has been like the others where distress for some means opportunities for others. Can you walk us through some of the bright spots, some of the opportunities that may be presenting themselves?
Salaman: Absolutely. There are some bright spots—I've been working on a few of them just the last few weeks. I mentioned that there would be some mezz lenders who take ownership from a hotel from a hotel owner. I know there are players out there already interested in landing in that slice of the stack because they view that as opportunity. Even if things are not going to shake out here in the next short term, the six to 12 months, there's just the reality that projects ebb and flow naturally and they will be winners and losers. Group business probably isn't going to be coming back here for the rest of the year. And the travel business has been dominated obviously by just people driving to locations. Is that our reality for the next six months or is that 12 months or 18 months? Some mezz lenders are already trying to forecast where they think some positive opportunities from their perspective will lay. And the same is true for sellers and buyers. I'm literally right now today working on purchase of a significant hotel, a very large purchase price, and at both its probably viewed as a good thing for both the seller and the buyer. The seller is probably looking for an opportunity to put some more cash in its accounts and otherwise shore up some of its other properties because it owns lots of other properties, and the buyer sees an opportunity to buy property, one that maybe it wouldn't have in a different time, and one that it will probably hold for a long time. I've seen a lot of hotel properties, particularly when you start talking about the higher classes and particular kinds of markets, you can't replicate them so easily. So there will only be so many opportunities and there seems to be lenders and others interested in those kinds of plays where there are solid owners who have not only the ability to finance it equity wise, but they have long-term vision. The same thing will happen with the flags, as I was mentioning before—they'll be repositioning.
Simon: That makes sense.
Salaman: And some will actually stay with their chain, but maybe they'll move up or down the scale. That's one thing that will be interesting to see with the success of extended stay, and perhaps some of the realities that we've seen in other downturns where down-market properties perform better than some of the higher end properties. Will there be some repositioning of hotels to something that is an extended stay property or something that's a little less driven by full service and F & B. And then for managers, particularly those that aren't branded, some of them will have lots of opportunity. They'll acquire other managers, or they'll pick up contracts from other managers who are faltering, and some of them have some key money to make them an attractive change. That was the reality of the prior downturns while people were not working on development projects as much, and perhaps buying and selling slowed down—you know, managers moving in and out of properties was very healthy in prior downturns, and I think it will be here too. Managers probably won't be to blame for the reality of hotel for COVID-19, but that doesn't mean that an owner doesn't want to change some things up. There will be new strategies because a lot of hotels will need to drive new strategies in the short term, but probably in the long term, as well.
Simon: We have time for one last question. Can you tell us about some of the ways that hotels and other lodging houses have transformed themselves to meet the circumstances of the moment, and whether that's been successful, and how long they can stay afloat with these types of creative strategies?
Salaman: There have definitely been creative strategies. Today I'm wearing a t-shirt for one of my clients. It's not a hotel client, but it's sort of in a hospitality space—it's a craft distillery here in San Diego. They make some great vodka, but the realities of shutting down tasting rooms, and distribution and everything else when COVID-19 looked really dangerous for them, so they started making hand sanitizer. They actually have more employees now than they did before. And that's basically been an opportunity for them to finance themselves with respect to their go-forward operations, and their long-term vision is still to make great vodka. It's Adventure Vodka if you want to check it out—it's one of my favorites. The same has been true for hotels. We've seen it in all kinds of markets where hotels have been turned, basically, into makeshift hospitals, they've been turned into homeless shelters in Manhattan and lots of other places. They're being used extensively as dormitories around college campuses, something that was never done before, but the reality of social distancing and only having so many students in there—there are numerous examples of that already occurring. Now, those are all short-term realities, for the most part, but some of them may be a permanent shift. That's the kind of mentality that many people will have with their properties—is there something that this property could do differently?
[The same questions are being asked] with food and beverage—we do a lot of that within the firm, too. In many ways, that's been harder hit than some segments of the hotel industry. Will hotels move away from it, or will they actually move to food and beverage and learn better how to do the catering aspects, or to be a source of food and beverage for the community? That implicates so much from your finance perspective because that rolls right back into it, whether you're thinking about taking your hotel and turning it into a dormitory long term, or whether you're thinking about completely shifting the way you operated your food and beverage or some of your other amenities before. Now that will roll straight into your realities with your lenders, your investors, your brand, your managers, pretty much everybody who's in the mix, much less unions and other things that could be very relevant. I think we'll see quite a bit of that—we've seen it already. I'm working on deals right now where people are actually thinking about their deals in a different light. What if 10 years from now this hotel shouldn't be a hotel anymore, and I want to convert its use, and negotiating that with some of its partners from the get-go? But that's not the reality for many hotels today, so it'll be an interesting discussion, and, like everything, people are trying to forecast the future, and with the level of predictability that we have today forecasting will be difficult. I know people are already trying to do their budgets for 2021 in the hotel industry. That process has started, and it would normally start not too long from now, but it probably started earlier, and it's going to be really difficult, again, for all those same constituents to be thinking about what hotel budgets look like in 2021? Hopefully there will be some good financing sources, because, one, there are only so many bad things that we want to see happen to our economy, and two, there are a lot of great properties out there at all levels that hopefully we'll all be visiting for business and leisure. I know I want to get back to it, and I imagine you do too.
Simon: Absolutely, thank you Christian so much for that whirlwind tour of the hospitality landscape, and I hope that pretty soon we'll be able to sit down together and try some of that vodka you mentioned.