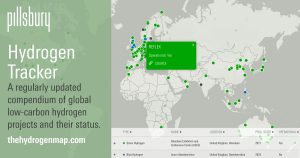 Pillsbury—the first global law firm to launch a practice team dedicated to all things hydrogen—has again demonstrated its position at the forefront of the ongoing energy transition by launching the only public resource tracking the development of hydrogen projects worldwide. This valuable resource is accessible at www.TheHydrogenMap.com.
"With governments and enterprises worldwide increasingly prioritizing decarbonization goals, we are laser-focused on helping clients capitalize on the enormous opportunities that the ongoing energy transition presents," said partner Sheila Harvey, who serves as firmwide Energy Industry Group leader at Pillsbury and co-leads the firm's Hydrogen practice.
Hydrogen practice group co-leader Mona Dajani, who also heads the firm's Energy & Infrastructure Projects and Renewable Energy teams, adds: "demand for energy is driving significant innovation in the hydrogen space. Green hydrogen projects, which combine renewable power sources with hydrogen production, are unlocking new possibilities for regions previously constrained by weak grid connections and transmission bottlenecks, and marking a crucial step in the development of the green hydrogen business case."
The proprietary Pillsbury map concentrates on "green" and "blue" hydrogen projects—production facilities that meet low-carbon thresholds by using either zero-carbon sources such as renewables or nuclear power or by capturing, storing or reusing carbon emissions produced by fossil fuel-based hydrogen production methods—with more than 200 projects already included. This data set will expand over time, with existing entries updated as projects progress and the potential to add more information to help readers find projects of interest to them.