In late April, U.S. District Court Judge Mark A. Goldsmith, in Concerned Pastors for Social Action, et al. v. Nick A. Kouri, et al.,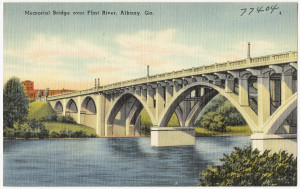 issued an interesting Order Regarding Disqualification. During an April 6, 2016 status conference in this matter, the Court to the parties "information regarding its consumption of water whose source was the Flint River, during the period of April 2014 to August 2014, a time period when its duty station was at the Flint Divisional courthouse."  On the same day, the Court issued an order instructing "the parties to file any objections pertaining to the Court's continued participation in the matter." At issue was Title 28 U.S.C. § 455(a), which provides that any judge "of the United States shall disqualify himself in any proceeding in which his impartiality might reasonably be questioned."
After briefing by the parties, in his Order Regarding Disqualification, Judge Goldsmith concluded that "[a]lthough neither the undersigned nor his staff has filed any claims against the State Defendants, they theoretically could do so [and, in fact,] the undersigned and staff appear to be members of the putative classes on whose behalf several class actions have been filed." Accordingly, "[r]ulings by the Court in this action might conceivably benefit the classes in those actions [and] [u]nder all the circumstances, an objective person might reasonably question the Court's impartiality, making disqualification the appropriate course to take."  Ultimately, Judge Goldsmith disqualified the "court" and ordered, "in accordance with the Local Rules of this District, this case be reassigned by blind draw to another judge of this court." This leaves open the question whether the next judge in line will also be a theoretical plaintiff.
This could also signal trouble ahead for other cases where the court is located within the zone of contamination.
Photo:  Boston Public Library, Memorial Bridge over Flint River, Albany, Ga., Taken Feb. 11, 2011 – Creative Commons