UPDATE: Chief Executive Magazine, Best & Worst States for Business (May 2014) — In the 10th annual survey of CEOs, over 500 CEOs across the U.S. graded states with which they were familiar on a variety of measures, including the tax and regulatory regime, the quality of the workforce and the quality of the living environment. Texas continues its 10-year historical position as the best state overall.
Downtown Austin is buzzing with hotel construction and other development activities, as recently recognized by the New York Times in its article Austin, Tex., Stands Out in Hotel Recovery That Has Hugged Coasts (Oct. 1, 2013) and, more recently, the Austin Business Journal in its article Fairmont Austin Developer names general contractor; project appears on track (Mar. 18, 2014).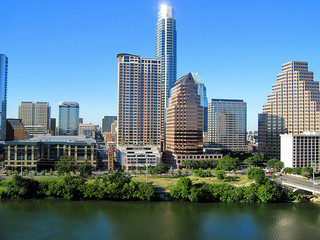 There are reportedly numerous hotel and other projects currently under construction and in the planning phase in downtown Austin.
The New York Times article highlighted hotel projects under construction and other projects in the pipeline:
"A $300 million JW Marriott hotel, the biggest JW Marriott in the country and the city's biggest hotel at 1.2 million square feet, is under construction on a full block near the Capitol. Developers broke ground on a Westin over the summer and a $350 million Fairmont will be going up a few blocks away.

Eight hotels containing almost 4,000 rooms are scheduled to open across Austin within the next three years, making the Texas capital one of the most active markets in the country for new hotel construction."
It noted that, although developers across the nation may be "skittish," delaying new hotels "until the economy returns to health, and financing does, too," in Austin, "developers aren't that wary."
In turn, the Austin Business Journal recently confirmed that developer Manchester Texas Financial Group LLC has announced that it has awarded Hunt Construction Group the $247 million construction contract for development of the Fairmont Austin downtown. It reported that "[t]he total value of the 47-story project to be built at Cesar Chavez and Red River streets is $370 million." Characterizing Austin as a "robust hospitality market," it confirmed that "[d]owntown Austin is buzzing with hotel construction activity." It highlighted projects under construction and in the pipeline as well:
"In addition to the JW Marriott Austin, the Westin Downtown Austin also is under construction along with Hotel Van Zandt in the Rainey Street District. The status of construction of the proposed Hotel Zaza at 401 Guadalupe St. is unknown at this time. Several other boutique hotels have been announced, mostly around Rainey Street and in East Austin."
Downtown Austin Alliance's webpage identifies other planned and under construction projects:
Republic Square, Phase II – Planned
Travis County DA Office Building – Planned
Texas PTA – Planned
Holiday Inn Hotel – Mixed Use Project – Planned
New Travis County Civil & Family Courthouse – Planned
Texas Public Policy Foundation Office Building – Planned
Gables Republic Park/Hotel Zaza – Planned
Dell Medical School & Teaching Hospital At UT Austin – Planned
Mexic-Arte Museum – Planned
Waterloo Park Tower – Planned
Episcopal Church National Archives – Planned
Trinity Place – Planned
416 Congress – Planned
5th and Brazos – Planned
West Campus Apartments – Under Construction
Hyatt Ballroom and Parking Structure – Under Construction
Capitol Studios – Under Construction
Colorado Tower – Under Construction
Stubb's Green Building – Under Construction
Waller Creek Flood Diversion Tunnel – Under Construction
IBC Bank Plaza – Under Construction
New Central Library – Under Construction
Additional Sources: Austin Business Journal, Hotel Van Zandt breaks ground on Rainey Street (Aug. 22, 2013)
Photo: Stuart Seeger, Austin Texas Lake Front – Creative Commons