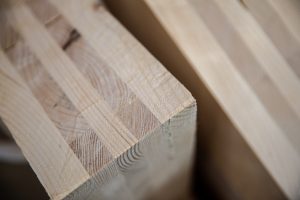 Design professionals, real estate developers and builders alike are advocating for a relatively new way of using one of the world's oldest building materials—wood—in large-scale commercial and residential construction projects. Mass timber, or structural timber, touts such benefits as carbon reduction and seismic durability—all with a lower construction time. With ESG on the minds of clients, investors and tenants, mass timber projects present an attractive construction option for the integration of sustainable resources and these various benefits.
The most common and popular form of mass timber, cross-laminated timber (CLT), has been recently gaining popularity in the U.S. after widespread adoption in Europe over the past 20 years. CLT consists of layers of trimmed and kiln-dried lumber boards, usually three, five or seven across, stacked and glued crosswise at 90-degree angles. These stacked lumber boards create large slabs that are used to build floors, walls and ceilings—put those fabricated pieces together, and you have a whole building constructed of CLT.
But what exactly is so enticing about mass timber and its development potential? Here are three (of many) benefits of mass timber construction:
Carbon Reduction and Mitigation
Most notably, mass timber construction is gaining popularity for its sustainability potential. The International Energy Agency reports that globally, 39% of global carbon emissions originate in the construction and operation of buildings, 11% of which comes directly from the manufacture of building materials. While the sustainability focus in buildings has long been on reducing the amount of energy a building consumes once it is occupied (known as "operational carbon"), a significant portion of a building's total carbon emissions over its lifetime actually comes from the energy consumed in the production, transport and installation of the materials used to build it. This is known as "embodied carbon." One way to reduce embodied carbon is to substitute the building material itself. Materials like cement and steel, both of which can be replaced in many applications by mass timber, contain a great deal of embodied carbon because producing those materials requires burning high-carbon fuels in large factories, and because these heavy materials cannot be transported and installed without fuel-inefficient heavy machinery. Building with mass timber takes advantage of one of the greatest benefits of wood—its ability to act as a carbon sponge. Trees absorb carbon from the atmosphere and store that carbon even after they're cut down and processed into wood. Rather than create carbon in the production of the building, mass timber consumes and sequesters carbon, and will continue to do so through the operation lifetime of the building. One cubic meter of CLT wood can sequester roughly 1.1 tons of carbon (though the exact amount can depend on various factors, including the tree species and transportation costs). And because wood is significantly lighter in weight than steel and cement, it requires less energy to transport, further reducing embodied carbon in the building project. Though the mass timber industry is still too young to provide consistent data, one recent study concluded that the embodied carbon of reinforced concrete buildings was more than 40% higher than for CLT buildings.
With all eyes on the implementation of ESG in design, construction and operation of buildings, the use of sustainable building materials like CLT does more than just speak to sustainability—it actually implements it from the construction phase through the life of the building. With office tenants looking to upgrade to lighter, brighter, ESG-driven spaces, developers seeking to meet investor ESG requirements and appeal to tenant preferences would be remiss to overlook the carbon reduction benefits of mass timber.
Comparable Strength and Faster Construction
Compared to building material counterparts steel and concrete, mass timber holds its own. The layers of lumber boards create a building material as strong as steel and concrete but significantly lighter. Mass timber has a strength-to-weight ratio that is approximately 20% higher than that of steel, and four or five times higher than that of non-reinforced concrete.
CLT components are mass produced and often prefabricated off-site through computer-controlled precision cutting, as opposed to steel, which is ordered in mass quantities and cut to size on-site, meaning much of the time and labor at the building site is reduced. Because the prefabricated pieces can be shipped only when needed, this means faster building times and less material waste. According to the American Wood Council, mass timber buildings are roughly 25% faster to build than concrete or steel and require 90% less construction traffic. Faster to build means faster to tenant income streams and construction loan refinancings.
Seismic and Heat Durability
Although many CLT structures have been built in low-seismic regions, in regions with higher seismic activity, including northern California and the Pacific Northwest, studies have shown that CLT provides the necessary strength combined with inherent flexibility to withstanding these forces. Numerous studies, including one funded in part by the U.S. Forest Service, have found that CLT shear wall configurations work well resisting gravity loads, wind loads and seismic loads given the natural flexibility of wood. A seven-story CLT building was tested on the world's largest shake table in Japan and withstood 14 consecutive earthquake simulations with nearly no structural damage.
While counterintuitive, CLT panels are also highly resilient to fire. CLT has been compared to logs in a campfire—it doesn't ignite easily, and if it does, it creates a layer of char on the outside, protecting the inside and allowing the wood paneling to maintain its structural integrity. The U.S. Forest Service recently conducted fire performance and blast testing of a five-story CLT building, and although slight panel char was expected and observed, the building remained intact and safe to enter.
In Practice
While the mass timber market has a track record of over two decades of success in Europe, adoption of the material is picking up speed in North America. An 18-story student housing project was recently completed in Vancouver, taking only 70 days to construct. Portland, home to the aptly named Portland Timbers major league soccer team, is also home to Albina Yard, the first building in the U.S. to use domestically produced (and locally sourced) CLT panels as the primary structural building element. Across Texas, there are 84 mass timber projects in design with another 50 either under construction or already built. Texas grows about 20% more wood than it harvests, making the market ripe for the proliferation of mass timber projects in the state.
CLT may not overtake the use of traditional building materials any time soon, but sustainable building materials have benefits that could potentially revolutionize the building industry and contribute to a greener construction footprint. Design professionals and real estate investors alike should not overlook the potential of mass timber as it works its way throughout the country.