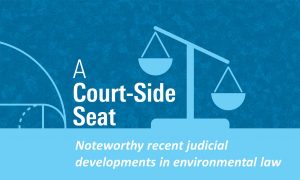 In this summary of recent developments in environmental and regulatory law, venues are challenged, standing is upheld, statutory exemption is disputed and more.
THE U.S. SUPREME COURT
Change Must Come from Within … Maryland?
As the new term begins, the Court has agreed to review BP PLC v. Mayor and City Council of Maryland, a decision of the U.S. Court of Appeals for the Fourth Circuit which held that a climate change damages case filed against many energy companies must be heard in the state courts of Maryland and not the federal courts. The petitioners argue that the federal office removal statute authorizes such removal, and the Fourth Circuit's contrary decision conflicts with rulings from other circuit courts.