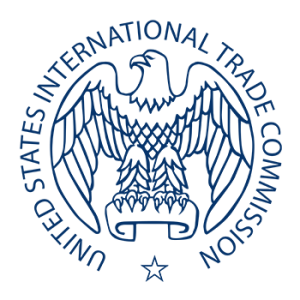 In April 2015, the U.S. International Trade Commission (ITC) issued an exclusion order prohibiting the importation of certain foreign-made crawler cranes into the United States for a period of at least 10 years. That order was the result of a 20-month investigation by the ITC, initiated by a Wisconsin-based crane manufacturer based on allegations of patent infringement and trade secret misappropriation by a China-based company. Defined by powerful injunctive remedies, unique rules, and a lightning-fast docket, the ITC can help protect American industry from unfair acts in the importation of articles into the United States. This post explores the traits that make the ITC an attractive venue for potential complainants.
ITC Site Plan
The ITC is a specialized trade court located in Washington, D.C., that has broad authority to investigate and remedy unfair trade practices. One of the ITC's primary functions is to conduct unfair import investigations, also known as "section 337" investigations, after the authorizing statute. A section 337 investigation can be instituted based on any number of unfair acts, including, but not limited to, patent infringement (utility and design), registered and common law trademark infringement, copyright infringement (including violations of the Digital Millennium Copyright Act), trade dress infringement, and trade secret misappropriation. Business torts such as passing off, false advertising, and tortious interference with business relations have also formed the bases of investigations.
The ITC is led by six Commissioners nominated by the President and confirmed by the Senate for overlapping nine-year terms. The Office of Administrative Law Judges (ALJs) presides over the evidence-gathering phase of the investigation. This includes robust fact and expert discovery, a week-long evidentiary hearing on the merits and, ultimately, an "Initial Determination" (ID) on the alleged violation of section 337, and a "Recommended Determination" (RD) on the remedy for any violation. The ID/RD are then reviewed by the Commission, which can adopt, modify or reverse, in whole or in part, the underlying determinations. The Commission's ultimate decision on violation and remedy, known as the Final Determination, is appealable to the Court of Appeals for the Federal Circuit.
Litigation Upzoned
Section 337 investigations are conducted in a manner similar to the equivalent U.S. District Court or state court action. There are, however, several important differences.
First, investigations are extremely fast-paced when compared to most other venues. On average, parties can expect an evidentiary hearing (i.e., a trial) in seven to nine months, with a final determination in seventeen to eighteen months. Individual deadlines, from discovery responses to motions practice, are similarly accelerated. For example, under the Federal Rules of Civil Procedure, a party has 30 days to respond to a discovery request. Under the ITC's Rules of Practice and Procedure, that same deadline is only 10 days. This speed can be leveraged by a complainant to put tremendous pressure on the respondents, who begin an investigation at an inherent disadvantage.
Second, the ITC only requires in rem jurisdiction over the accused products. This means that an entity need not have any presence in the United States to be named as a respondent. Rather, section 337 requires an "importation," a "sale for importation," or a "sale after importation" of an accused article by its owner, importer or consignee. Further, the Supreme Court's decision in TC Heartland does not apply to the ITC. As a result, a complainant in a patent infringement-based investigation can name all respondents in a single complaint, without regard to corporate residence or control. Thus, an ITC complainant can litigate multiple claims, including patent infringement, against multiple foreign respondents in a single venue by filing a single complaint.
Finally, the default remedy for a violation of section 337 is a specialized injunction known as an "exclusion order," which instruct U.S. Customs and Border Protection (Customs) to prevent the further importation of covered products. There are two kinds of exclusion orders: limited and general. A Limited Exclusion Order (LEO) prohibits importation of infringing articles by named respondents and is the default form of relief for a violation of section 337. A General Exclusion Order (GEO) prohibits importation of all infringing articles, regardless of source—even from entities that did not participate in the underlying investigation. Obtaining a GEO requires additional evidentiary showings but can provide comprehensive relief where it is difficult to identify the source of infringing articles, or where a LEO could be circumvented. Unlike a U.S. District Court, the ITC does not consider the four-part test set forth in eBay v. MercExchange before issuing an exclusion order in a patent infringement-based investigation.
The Commission can also issue a Cease and Desist Order (CDO), which prohibits the further sale of infringing articles that have already been imported into the United States. Finally, if an importer violates an exclusion order on multiple occasions, the Commission can issue and Seizure and Forfeiture Order, which directs Customs to seize the articles in question, rather than exclude them.
Potential Encumbrances
The ITC is not without certain challenges for the prospective complainant, the most important of which is the domestic industry requirement. As noted above, the goal of section 337 is to protect American industry from unfair acts and competition in the importation of articles from abroad. Thus, for the ITC to act, there must be an industry in the United States to protect—either existing or in the process of being established.
The specific analysis depends on the unfair act asserted. At a high level, however, a complainant must show that it has made certain qualifying monetary investments in the United States related to products that practice the asserted intellectual property, or that have a nexus to the alleged unfair act. Qualifying investments generally relate to physical space, equipment and labor costs associated with the domestic manufacture, engineering, research and development, and licensing of practicing products, as well as certain after-market activities, such as customer service, technical support, and repair. The activities of a "mere importer," without anything more, do not count as a domestic industry.
Another consideration for the prospective complainant is that the ITC does not award money damages. For example, in a patent infringement action before a U.S. District Court, a plaintiff can seek damages for past acts of infringement. The ITC, however, only provides prospective injunctive relief. Thus, if a complainant wants to recover money damages, it must do so through a parallel District Court action. Such parallel actions, while a potentially significant point of leverage, can be stayed by a respondent-defendant until the conclusion of the section 337 investigation, pursuant to 28 U.S.C. § 1659.
Investigational Underpinning
The ITC has adjudicated more than a dozen investigations related to the construction industry. Below is a list of some notable investigations.
Certain Crawler Cranes and Components Thereof, 337-TA-887. Wisconsin-based crawler crane manufacturer filed a complaint alleging patent infringement and trade secret misappropriation. The ITC found a violation and issued a 10-year LEO and a CDO.
Certain Luxury Vinyl Tile and Components Thereof, Inv. No. 337-TA-1155. Georgia-based flooring manufacturer filed a patent-based complaint against 45 respondents. Numerous respondents settled, while the defaulting respondents were found in violation. The ITC issued a GEO which resulted in several importers' products being seized and forfeited to Customs.
Certain Road Milling Machines and Components Thereof, 337-TA-1067. Tennessee-based road-milling machine manufacturer filed a patent-based complaint. The ITC found a violation and issued a LEO and CDO.
Certain Load Supporting Systems, Including Composite Mat Systems and Components Thereof, 337-TA-1095. Texas-based matting-system manufacturer filed a patent-based complaint. The investigation was terminated based on a consent order (in which a respondent agrees to cease importing the accused articles) and settlement agreement.
Certain Electronic Stud Finders, Metal Detectors, And Electrical Scanners, 337-TA-1221. California-based complainant filed a patent-based complaint against the world's largest power tool brand. Commission found all asserted claims invalid or not infringed, and no domestic industry. The case is currently on appeal to the Federal Circuit.
Other investigations involved imported articles such as drill point screws for drywall, caulking guns, metal cutting snipes, laminated floor panels, synthetic roofing underlayment products, and underground cable and pipe locators.
Close Out
For companies in the construction industry facing unfair acts or unfair competition from abroad, the ITC is a fast and powerful alternative to Federal District or state court actions. While not without its unique challenges, such as the domestic industry requirement, the ITC's speed, in rem jurisdiction, and robust injunctive relief, have helped complainants across numerous industries—including the construction industry—to protect their businesses against unfair trade practices.