On October 24, the U.S. Court of Appeals for the Ninth Circuit reversed the district court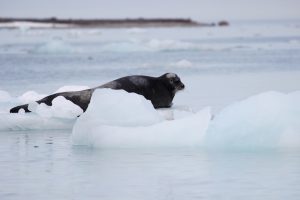 and upheld the determination of the National Marine Fisheries Service (NMFS). The NMFS concluded that two distinct population species of the Pacific bearded seal subspecies –located in the shallow waters of the Artic—were likely to become endangered within the foreseeable future. Climate projections that the loss of sea ice over those shallow waters foreshadow that this subspecies will become endangered under the provisions of Endangered Species Act (ESA) by the year 2095. The case is Alaska Oil and Gas Association, et al., v. Pritzker.
After reviewing the scientific record compiled by the NMFS, the Ninth Circuit held that, on the basis of the administrative record, the listing decision is reasonable. Accordingly, the Ninth Circuit set aside the district court's ruling that the NMFS's action was arbitrary and capricious because the attempt to predict the bearded seal's viability beyond 50 years was too speculative and remote to support a determination that the bearded seal is in danger of becoming extinct as being inconsistent with the ESA and intervening judicial decisions construing the ESA. The Ninth Circuit cited to Safari Club Int'l v. Salazar (In re Polar Bear ESA Listing & Section 4(d) Rule Litig.), which affirmed the use of climate projections in ESA listing determinations.
While there is no evidence that the numbers of these seals is diminishing, the Ninth Circuit adds that, "There is no debate that temperatures will continue to increase overt the remainder of the century and the effects will be particularly acute in the Artic."
Photo:  Gary Bembridge, Bearded Seal at Hamiltonbukta Glacier, Svalbard, Artic, Taken July 30, 2015 – Creative Commons