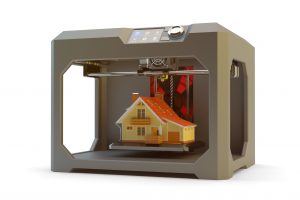 The 3D printing construction market is likely on the cusp of a boom.
This unique construction method boasts many advantages in comparison to traditional forms of construction. Projects can be completed more quickly and at a fraction of the cost, given fewer laborers are required and the materials used are much cheaper. Though market growth stalled during the COVID-19 pandemic, industry leaders expect 3D printing construction to experience exponential growth in the coming years.
While 3D printing technology has risen in popularity and prominence in the past couple of decades, it is only recently that 3D printing companies have begun making strides in the construction industry. Critical to the construction process is the software that is used to create and model the planned structure. A software program turns a building's blueprint into code that then dictates the movement of a 3D printer on the construction site. After a concrete-like mix is loaded into the printer, the printer begins to build the walls by laying one cylindrical layer of concrete at a time, in accordance with the blueprint. There is no one-size-fits-all approach in 3D printing construction: some companies print the core structure as well as the roof and floor of the structure, while others print only the core and shell and install those portions separately using traditional methods and materials.
Project cost and completion time estimates vary by company but are much lower than comparable metrics in the traditional construction industry. Many structures can be completed in less than 24 hours using primarily one construction material. Beyond the cost- and time-saving benefits, 3D printing construction can also have immediate beneficial environmental impacts as well. Some companies incorporate recycled or carbon-neutral materials into their concrete mix. The resulting structures are said to be more sustainable and environmentally friendly, as they are more energy-efficient due to being well-insulated. Impressively, construction waste is also drastically reduced, with some companies estimating to reduce waste by as much as 95%.
Alleviating the Affordable Housing Crisis
Given its cost-effectiveness, one of the ways in which 3D-printed construction is poised to have the greatest impact is in the affordable housing sector.
Several 3D printing construction companies have already been making an impact in this area. Austin, Texas-based ICON has focused heavily on the affordable housing market with an emphasis on alleviating homelessness. ICON has partnered with the Austin nonprofit Mobile Loaves and Fishes to print homes in Community First! Village, an affordable permanent housing community that aims to reduce chronic homelessness in the city. ICON has also worked with non-profit New Story to provide affordable housing for local textile workers and fishermen in Tabasco, Mexico, by printing an entire neighborhood of 500-square-foot, two-bedroom homes.
The industry also has the potential to create a larger market of affordable homes for individuals and families who are being priced out of expensive real estate markets. While some experts say the housing shortage is starting to ease after record highs during the COVID-19 pandemic, demand in many markets still far outweighs supply, especially for buyers on a budget. California-based Mighty Buildings creates energy-efficient mini-homes and accessory dwelling units (ADUs) with its own proprietary printing substance that hardens when exposed to UV light and is resistant to fire, water, and heat damage. Their units start at $115,000. The company is also in the process of developing a 15-home neighborhood of more customizable two-bedroom homes in Coachella Valley by the end of 2022. They hope to expand their operations outside of California into other expensive urban areas.
In addition to private companies, the U.S. government has also begun expressing interest in the possibilities of 3D-printed construction. In June of 2022, the U.S. Department of Energy awarded Texas A&M University a $3.74 million grant to fund a project focused on affordable and sustainable 3D-printed housing. The project will involve printing structures using hempcrete, a mixture of hemp powder or fibers with water and lime, and aims to demonstrate how printed structures can comply with modern design codes while being more cost-effective and environmentally friendly than traditional construction methods.
Larger-Scale Projects
While much of the discussion around 3D printing construction centers on single-family dwelling units, its many benefits are further maximized for large-scale construction projects. In 2021, the Texas National Guard unveiled a 3,800-square-foot military barracks constructed in partnership with ICON. The structure was completed at one-third of the cost of traditional building methods and can house 72 individuals at a time. The Department of Defense announced in April of 2022 that it would be working with ICON to construct three military barracks at the U.S. Army base in Fort Bliss, Texas.
Prior to 2021, such a partnership would not have been possible as the Department of Defense (DOD) had not yet published its updated criteria for additive concrete construction. This meant companies that used such methods were unable to bid for military projects. However, the DOD published their policy in September of 2021 and has since announced that they are further exploring how 3D building techniques can be used to manage the backlog of military construction projects. Given the potential, competition for military construction projects among 3D printing construction companies will almost certainly increase.
3D Construction Around the World and Beyond
The potential for 3D printing construction is also being explored by companies around the world. In 2020, Belgian company Kamp C printed a two-story home that was 60% more efficient to produce in terms of materials, time, and budget. In France, a family moved into a four-bedroom 3D-printed home constructed by the University of Nantes in its effort to study more affordable housing solutions. Dubai has also stated its goal that 25% of new construction will be created using 3D printing methods by 2030.
NASA also has expressed interest in the 3D printing construction industry. In 2019, they hosted a competition program in which teams designed 3D-printed habitats meant to function in deep space. They have since announced a partnership with ICON in Austin to explore how 3D printing construction technology can be used to create space exploration habitats on Mars. The building method is particularly attractive given the prohibitive cost of transporting traditional building materials on multiple flights to space.
Potential Challenges and Regulatory Unknowns
Given the projected growth rate of the 3D-printed construction industry, the capabilities of the industry may outpace the development of corresponding regulations. Builders will need to ensure that their structures comply with local and state building codes. Because of the method by which the structures are built and the material used to do so, standard features that are normally installed within the walls or under the floors, like plumbing and electrical, need to be installed using an alternative method. This method will need to be approved and described by residential building codes if expansion into the residential real estate market is going to take off. While states like California have already included a section on 3D-printed construction in their residential building codes, the vast majority of cities and states have not. This could potentially slow down the expansion of 3D-printed construction into the residential space.
The relative youth of the industry also may pose an additional problem for builders who hope to expand into the residential real estate space. Because 3D-printed homes are still very new to the market, both buyers and third-party service providers, like plumbers and electricians, may demand extended reps and warranties from builders to protect themselves from unexpected issues that could arise with the homes in the future. The possible need to provide expanded legal protections for consumers and third parties may make expansion into residential riskier and less lucrative for builders.
These potential problems may resolve over time. The development of residential building codes and other regulations specific to 3D-printed construction will be an ongoing process over the coming years. In the meantime, builders could inspect their early 3D-printed structures to determine how they fare over time. By the time regulations account for 3D-printed construction, builders may have a much clearer idea of how to assess the risks associated with their designs to best structure deals with consumers.
---
RELATED ARTICLES
Smart Construction and the Future of the Construction Industry