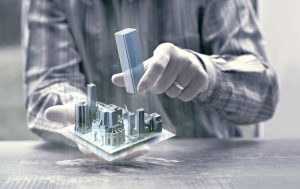 "Smart Construction" is a loose term but generally refers to the development and use of processes and applications that improve construction planning and the management of projects (thereby potentially streamlining costs of construction).
The increased deployment of collaboration tools (e.g., Zoom, Microsoft Teams, WebEx) and other cloud-based technology solutions during the COVID-19 pandemic will invariably result in more efficient project management in construction going forward. These type of efficiencies are sorely needed, especially as the industry is trying to recover from supply chain issues, lockdown challenges and social distancing requirements resulting from the pandemic.
However, smart construction goes well beyond those basic business efficiency and collaboration tools. For example, drones are regularly used on construction projects to monitor site conditions, detect problems, and assess conditions safely. Meanwhile, newer technologies such as "programmable" cement, "self-healing" concrete, and autonomous and robotic machinery are increasingly being deployed in construction projects. And yet, these current technology solutions are just the tip of the iceberg as researchers continue to look for new ways machines and technology can be used to solve complex engineering challenges.
Improving Safety, Increasing Productivity
Often overlooked, construction remains one of the deadliest occupations, with over 1,000 deaths annually according to the 2019 Census of Fatal Occupational Injuries (CFOI) from the Bureau of Labor Statistics.
Innovative cloud solutions, such as building information models (BIM), offer increased resource and safety visibility enhancements to virtually track and optimize resources and equipment (and potentially improve job site safety). With 3D modeling technology, BIM manages and synthesizes project data and provides visuals for on-ground analysis. BIM allows contractors, workers and project participants to view precise details of a building and the building's design and construction using drones, visual 3D renderings, and environmental data, which removes the need for individuals to visit potentially dangerous project sites in person. Data integration allows workers to visualize a finished project such as pipe placement, electric wiring, or even potential foundation hazards while in its physical location. The implementation of data analytics can also help project managers detect patterns to determine when and where most accidents occur and which variables play a factor in those accidents. This will enable contractors and project managers to prioritize certain tasks at certain times to avoid unsafe conditions and avoid common issues that lead to accidents, which in turn will increase the safety on their site.
In addition, BIM's emphasis on collaboration allows for instantaneous views of project logistics. Indeed, using the data from manufacturers, BIM can relay live lead times for the production of construction materials. Smart construction can also take advantage of augmented and virtual reality to increase productivity without incurring significant costs. Architects, engineers, designers, and even tenants can "see" the finished product through augmented or virtual reality, which would provide each of them an opportunity to make structural or architectural changes without having to undo any of their previous work on incur additional costs. Ultimately, the adoption of data sourcing technology such as BIM and other smart construction will improve construction project safety and result in cost savings and increased productivity and efficiency.
According to McKinsey, recent research has shown that a digital transformation can increase productivity by 14 to 15 percent and reduce costs by up to 6 percent. The value "smart construction" can bring to the redevelopment and optimization of the construction industry is a solution that is necessary, and the key to keep up with the fast-moving world of engineering, construction and operations.
Sustainability
Innovations in construction are also allowing for more "sustainable" design and construction. Sustainable design or "green construction" refers to the structure and application of environmentally responsible and resource-efficient processes throughout a construction project. Examples of such innovations include the use of solar power on buildings, the use of biodegradable materials in a building, the use of green insulation (for example, using recycled denim and newspaper instead of non-renewable materials) and the use of tiny electric signals embedded in glass windows or facades (known as electrochromic smart glass) that alter the amount of solar radiation that can be reflected and therefore reduce energy consumption.
By adopting "smart construction or construction tech," many contractors, owners, property owners, and developers could find innovative ways to decrease the financial burden of construction projects and meet new regulatory standards for building practices. For example, contractors could use data analytics and detecting devices to track releases of certain chemicals to ensure that they are running their site in an environmentally friendly way. With the advances in 3D printing, contractors could also find ways to print commonly used products using recycled materials as a way to lower their overall footprint and increase the sustainability of their project. As the country moves into a new era of digital connectivity after the pandemic, adopting smart construction tech will become a necessity rather than an option. And as legislators look to regulate sustainable building, smart construction provides a simple solution for an industry looking to maintain growth.
(Special thanks to Derrick Anderson for contributing to this piece.)
---
RELATED ARTICLES