On April 11, the U.S. Court of Appeals for the District of Columbia Circuit reversed the lower court and held,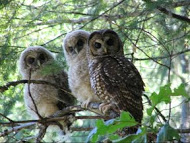 in a unanimous opinion, that the American Forest Resource Council has standing to challenge the U.S. Fish and Wildlife Service's 2012 designation of 9.5 million acres of federal forest lands as a protected critical habitat for the northern spotted owl. The case is Carpenters Industrial Council, et al., v. Zinke.
The Court of Appeals notes that a designation of so much federal land as a critical habitat for this threatened species under the Endangered Species Act would place off-limits for timber harvesting "a huge swath of forest lands in the Pacific Northwest." The American Forest Resource Council is a trade organization which represents lumber companies that obtain timber from these designated forest lands:
The Council has demonstrated a substantial probability that the critical habitat designation will cause a decrease in the supply of timber from the designated forest lands, that Council members obtain their timber from those forest lands, and that Council members will suffer economic harm as a result of the decrease in the timber supply from those forest lands.
Declarations furnished by the Council persuaded the Court of Appeals that this group has standing, consistent with circuit precedent, Mountain States Legal Foundation v. Glickman, to litigate and challenge this designation.
The case will now be returned to the district court.
Photo:  U.S. Fish and Wildlife Service, Northern Spotted Owl – Creative Commons