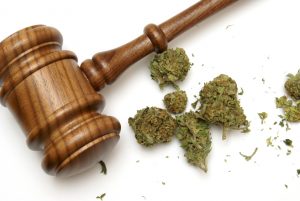 The cannabis industry–both recreational and medicinal–is one of constant development, with a litany of obstacles. Even since December of last year when we began our series on the legalization of marijuana and its correlation to the real estate industry, new wrinkles have emerged, which may have an effect on future cannabis real estate deals.
In 2017, PharmaCann, an Illinois-based medical marijuana grower and retailer, purchased a property located just outside the Philadelphia Mills shopping center, where it planned to build a medical marijuana dispensary. The company obtained a state permit and city approval to operate a dispensary on the property, however, the owner of the shopping center claimed that the deed to the property prohibited the site from being used as a "drug store" or for any "unlawful" purpose. PharmaCann filed a complaint in Pennsylvania state court, asking the court to interpret the deed and to approve the opening of its dispensary.  PharmaCann argued that because the sale of medical marijuana in Pennsylvania is only permitted in the form of highly concentrated oils and resins, it is not like a typical drugstore such as CVS or Walgreens and that the restriction on unlawful use was inapplicable since the product PharmaCann would be selling is legal under Pennsylvania law. In October of last year, the property owner subsequently removed the case to federal court. In March of this year, the U.S. District Judge Gene Pratter ultimately found that federal question jurisdiction exists, and as such, the case can be heard in federal court.  In reaching this decision, Pratter opined that the case turns on whether the proposed store is "unlawful" which "tee[s] up a fundamental clash between state and federal law" thus opening the door for federal question jurisdiction.
Currently, 94% of Americans support the legalization of marijuana, while 61% support the legalization of recreational marijuana. However, despite this wide support, the legal climate surrounding cannabis continues to be unstable as the battle between state and federal law escalates. As we discussed in Part 2, while cannabis is legal in 30 different states, it continues to be classified as an illegal drug under the federal Controlled Substances Act (CSA), which has resulted in cannabis legal feuds across the country. In February of this year, a federal judge rejected a lawsuit which sought to legalize marijuana under federal law, explaining that although marijuana indeed has a clear, medical purpose, it is the responsibility of Congress and the Drug Enforcement Administration to declassify it as a Schedule I drug. In March of this year, a Bankruptcy Appellate Panel for the 9th Circuit remanded a Chapter 13 case against a landlord who leased a space to a state-licensed marijuana dispensary, finding that a court cannot rely solely on the CSA to dismiss a case without first articulating a cause for dismissal. Such a finding means that in the future, bankruptcy courts will have to make substantive factual and legal findings in order to dismiss marijuana cases. Concurring in the opinion, Judge Maureen Tighe noted that the expansion of the marijuana industry across state lines requires courts to take into account a debtor's compliance with state law. Recently, a California court decided a case with similar facts as the PharmaCann case. On April 1, 2018, the California judge ordered that marijuana be permitted at the Coachella Valley Music and Arts Festival due to the property deed permitting a wide variety of uses, so long as such uses are permitted by the laws of California.
A ruling against PharmaCann in federal court could have a national effect due to the Supremacy Clause likely "cast[ing] doubt on the validity of dozens of state marijuana schemes." Because the PharmaCann case hinges on the federal court deciding whether the operation of a medical marijuana dispensary is "unlawful," a decision against PharmaCann offers support for a prohibition on commercial, marijuana activity, by derailing dispensary operations located on a property with similar deed language. Additionally, such a ruling "could allow any landlord to evict any tenant involved in the cannabis industry by taking them to federal court." Even obscure legal opinions could be leveraged to undo a real estate deal. Due to these potential, far-reaching ramifications, PharmaCann is carefully weighing its options–appeal, proceed with the case in federal court, or withdraw its plans to build on the property altogether, which could render the case moot.
PharmaCann argues that a decision on the legality of state medical marijuana statutes should be left to the states. In making this argument, PharmaCann cites to the shifting political view of marijuana, medicinal benefits of using marijuana, and the lack of federal enforcement of marijuana laws against state-regulated medical marijuana businesses.  Although Judge Pratter rejected these arguments as irrelevant to the issue of whether federal jurisdiction exists, she left a word of caution on how a decision on the merits of this case could come out–"It is not this Court's role to second-guess the political wisdom of the federal legislation on marijuana."