UPDATE:  The Sacramento Bee, Marcos Breton: Selling a new image of Sacramento (Oct. 17, 2015)
UPDATE: Sacramento Business Journal, CEO-led economic development group searches for leader (Jul. 23, 2014)
The Sacramento Business Journal recently reported that Up to 40 CEOs back new business recruitment effort for the capital region.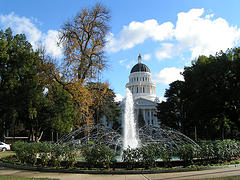 The recently formed Greater Sacramento Area Economic Council reportedly "will be modeled after an economic development group in Phoenix that has made several trips to Sacramento to talk to various stakeholder groups." The new council is expected to attend national and international business recruitment events to sell Sacramento along and to utilize other methods of actively recruiting Sacramento business.
What would it take for you to join us here in the capital region?
Additional Source: The Sacramento Bee, CEO group plans Sacramento economic development push (Jun. 24, 2014)
Photo: Bev Sykes, State Capitol, Sacramento (Dec. 11, 2003) – Creative Commons