The Seattle Public Utilities (SPU) and Department of Planning and Development (DPD) are reportedly working together to increase recycling and salvage rates in the hopes of achieving Seattle's landfill diversion goals — to divert 70%of construction and demolition waste from landfills by 2020.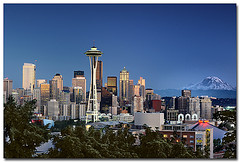 Because certain materials are easy to either salvage or recycle, Seattle is banning asphalt paving, brick, concrete, metal, cardboard, and new gypsum scrap from being sent to a landfill for disposal within the City of Seattle. SPU has set up a facility certification program identifying qualified receiving and recycling facilities for recovering targeted construction materials for recycling and subsequent use.
Starting July 1, 2014, for all construction projects with a work area greater than 750 square feet a Waste Diversion Report with be required as part of the building permit application, and for demolition projects and construction and alteration projects that include demolition, where the area of work is greater than 750 square feet, a Deconstruction and Salvage Assessment will also be required. The DPD reminds everyone that these requirements have been in effect since the 2012 Seattle Building Code was adopted in late December 2013.
DPD's website confirms that if a Waste Diversion Plan & Deconstruction & Salvage Assessment is not included with the application for a building permit, the completed form can be emailed to DPD at any time during the review process. For technical questions about the Deconstruction Salvage Assessment and/or the Waste Diversion Plan, you can email the SPU.
Additional Source: New Requirements for Construction and Demolition Waste; Recycling Required for Construction and Demolition Projects
Photo: Bala Sivakumar, Seattle Summers, Taken Aug. 14, 2010 – Creative Commons