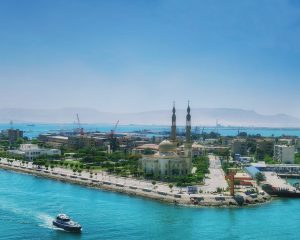 As green hydrogen production becomes a global endeavor, many countries are vying to become hubs for the production of clean-burning fuel. Among them, Egypt has signed a number of agreements over the last year with international companies to establish green hydrogen production facilities in its Suez Canal Economic Zone (SCZone), a self-sustaining industrial development corridor established in 2016 that consisting of 461 square kilometers and six maritime ports with the stated goal of "transforming the region from a traditional oil and gas shipping route into the world's longest 'green' canal."
Here are a few of the projects currently underway in the SCZone:
Scatec, Orascom Construction, Fertiglobe and SFE
In early March 2022, the consortium of Norway's Scatec, Egypt's Orascom Construction, Fertiglobe—a UAE-based producer of ammonia—and the Sovereign Fund of Egypt (SFE), was among the first to sign an agreement to build Egypt's first-ever ammonia plant in the Ain Sokhna industrial zone at a cost of $5 billion. The project, which aims to begin production in 2025, will have a production capacity of one million tons per year, with the potential to reach three million tons, and export green ammonia to European and Asian markets.
AMEA Power and SFE
Emirati energy firm AMEA Power has also partnered with the SFE to build a green ammonia production facility in the region, with construction set to begin by the end of 2022. It also plans to be operational by 2025 and will be able to produce 235,000 tons of ammonia annually, with an increase to 390,000 tons per year at a later date.
Masdar and Hassan Allam Utilities
In late April 2022, the UAE-based consortium of renewable energy companies Masdar and Hassan Allam Utilities joined the field of new projects, announcing it is building green hydrogen production facilities in the Ain Sokhna industrial zone that will be capable of producing 480,000 tons of green hydrogen per year. The first facility is projected to produce 100,000 tons of e-methanol annually for use as green fuel for ships by 2026, and the second stage of the project will increase electrolysis capacity up to 4 GW by 2030, producing 2.3 million tons of green ammonia per year. The consortium intends to export green ammonia and supply green hydrogen to domestic industries.
EDF Renewables and Zero Waste
French EDF Renewables and Zero Waste, also known as the Green Fuel Alliance, announced it had signed an agreement with the Egyptian government to build a green ammonia production facility in the Ain Sokhna industrial zone at a cost of $3 billion. Construction of the plant is slated to begin in 2024, and the first phase of operation is expected to commence in 2026, followed by a second planned expansion beginning in 2030. Initial green ammonia production is expected to reach 140,000 tons of green ammonia annually before eventually reaching a production capacity of 350,000 tons per year. The facility will supply green fuel to ships traversing the Suez Canal.
ReNew
India's ReNew Power Pvt Ltd., a renewable energy firm, and the Egyptian government also signed a preliminary green hydrogen project agreement in late July 2022. ReNew aims to produce 220,000 tons of green fuel per year and intends to invest as much as $8 billion in the project.
As Egypt continues to consider proposals from international companies seeking to build green hydrogen and related facilities in the SCZone, and as more details on existing agreements are made available, the activity provides a prime example of how the energy transition represents a global priority.
---
RELATED ARTICLES
Critical Materials for the Energy Transition: Of "Rare Earths" and Even Rarer Minerals
Hydrogen Powers Its Way from Proof of Concept to Reality in Real Estate