The Real Estate and Construction industry may be huge, but ultimately, as with all industries, it comes down to the people who help make it all come together. From time to time, we like to profile some of those people.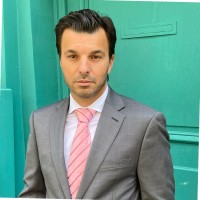 Born and raised in Paris, Kevin Yaich set his eyes on a career abroad while in business school. After internships in Russia and Singapore, Yaich worked as a financial analyst for AIG and JPMorgan Chase. His exposure to the world of renewables came soon after when he spent almost eight years working for NextEra Energy Resources before assuming his current role as president of Shikun & Binui USA Energy. S&B is a global infrastructure group with its global HQ in Israel. Shikun & Binui USA Energy (S&B USA Energy) was launched as a growth-oriented investment platform in March 2020. They are focused on owning and operating solar, wind, and battery storage projects under long-term contracts with creditworthy counterparties.
How would you describe your role to people who are not in the industry?
Yaich: We invest in green, renewable ways to produce electricity. We manage the construction of the plants, we produce electricity, and we insure proper maintenance of those power plants long-term. There's also, of course, the essential role—hiring the right people, running the entire team, and leading them to success.
What would you say is one of the most interesting challenges a person in your position faces?
Yaich: Our challenge as leaders is to see how far we want to go upstream on a project. By that, I mean that each step requires taking some level of risk, but there are moments when your gain is only incremental to the risk you are taking.  At the core, we strive to demonstrate our value to the market and our investors, so as a leader, I am always adjusting to find the perfect equilibrium between minimizing our risk and maximizing profit.
Name one of your proudest professional moments.
Yaich: Starting a new job is always a bit of an adventure, especially having left a great position for what I believed would be an even better one. I have to say that I am proud of my team. We all worked together day and night to close our first deal only a few months after we launched—during COVID and during the Christmas holidays. That's hard to beat and definitely the proudest moment of my career.
What do you do when you're not working?
Yaich: I'm the type of person who needs to be busy all the time, so with a family that includes three kids, all under age seven, that's an easy goal to meet. I wake up early and try to do as much work as possible to spend as much time as I can with my wife and kids. This way, I am available to drive my kids to school and also be there to put them to bed. If I don't have that, then all the hard work is pointless. I'm also an avid sports fan, as is the rest of my team. But I also like to play sports; I play tennis at least two or three times a week, soccer, and run every day. Playing sports and being active is my way to find that balance when I am not working.
---
Other Connection Corners
Connection Corner: Niklas Bandak of Bandak Project Management