On January 27, 2014, The Solar Foundation, a national 501(c)(3) nonprofit organization whose mission "is to increase understanding of solar energy through strategic research that educates the public and transforms markets," released its fourth annual National Solar Jobs Census 2013. Their Census, which reports on the "current employment and projected growth in the United States solar industry," confirms that 142,698 Americans were employed by the U.S. solar industry as of November 2013.
In its Executive Summary, the Census reports that "research shows that solar industry employment has grown by an astonishing 53% – or nearly 50,000 new solar jobs – since [it] first started tracking them in 2010." A "solar worker" is defined as "an employee who spends at least 50% of work time supporting solar-related activities." The Census, Table 1 reflects the following data: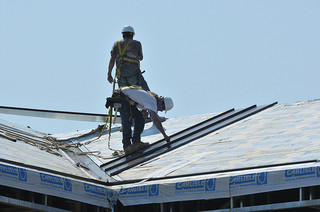 Installation Sector:
2010-43,934 jobs 2011-48,656 jobs
2012-57,177 jobs 2013-69,658 jobs
Manufacturing Sector:
2010-24,916 jobs 2011-37,941 jobs 2012-29,742 jobs 2013-29,851 jobs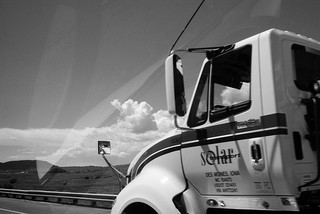 Sales and Distribution Sector:
2010-11,744 jobs 2011-13,000 jobs 2012-16,005 jobs 2013-19,771 jobs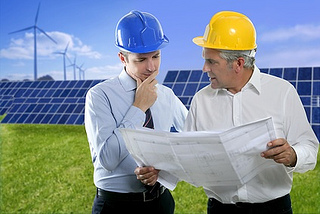 Project Development Sector:
2010-N/A 2011-N/A 2012-7,988 jobs 2013-12,169 jobs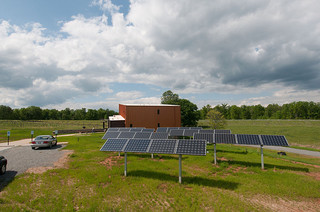 Other Sectors (solar workers at non-profits, government and academia):
2010-12,908 jobs 2011-5,548 jobs 2012-8,105 jobs 2013-11,248 jobs
The leading growth sector is "the installation sector, in which solar employment has grown by nearly 60% over the four-year period covered by the Census series, representing more than 25,000 jobs." It also reports that "Solar employment is expected to grow by 15.6% over the next year, representing the addition of approximately 22,240 new solar workers. Forty-five percent of all solar establishments expect to have added solar employees by November 2014."
The Solar Foundation also reported that its findings from its National Solar Jobs Census 2013 were used in by the White House in their "enhanced," online State of the Union stream.
Additional Resources: U.S. Department of Energy; The White House; Solar Energies Industries Association (SEIA); San Francisco Chronicle, Solar industry job growth jumped 20% in 2013 (Jan. 27, 2014); Los Angeles Times, Solar jobs climb almost 20% in 2013 (Jan. 27, 2014); U-T San Diego, Solar industry employment up 20% in 2013 (Jan. 27, 2014)
Photos: U.S. Army Environmental Command, Taken Aug. 25, 2009 – Creative Commons; University of Salford Press Office, Taken Apr. 16, 2013 – Creative Commons; Bradley Gordon, Taken Jun. 29, 2009; Tafe Sa Tonsley, Taken May, 19, 2010 – Creative Commons; U.S. Department of Agriculture, Taken May 4, 2011 – Creative Commons