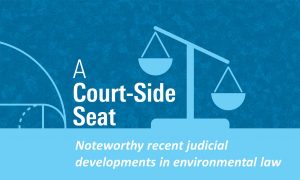 This is a brief account of some of the important environmental and administrative law cases recently decided.
THE U.S. SUPREME COURT
BP PLC, et al. v Mayor and City of Baltimore
The issue the court confronted was a procedural matter: Can the defendant energy companies use the federal removal statutes (see 28 USC Section 1442) to remove a state law climate change lawsuit to federal court? Here, a group of energy companies were sued by the mayor and city council of Baltimore in state court, where they alleged that the defendants had concealed the adverse environmental effects of the fossil fuel products they promoted and sold in Baltimore City. Several similar lawsuits have been filed in many state courts, where typically it is alleged that the defendants can be sued on various common law theories. Rather than defend these cases in state court, the defendants have sought to remove these cases to federal court because climate change liability appears to be an issue that should be settled at the federal level. These efforts have been unsuccessful, with most federal trial and appellate courts holding that the reasons cited for removal (oftentimes the federal officer removal statute) have not been persuasive. In this case, both the Maryland federal district court and the U.S. Court of Appeals held they had no jurisdiction to authorize removal, and thus returned the case to the state court. Noting that the U.S. Court of Appeals for the Seventh Circuit ruled that a removal action could be countenanced under Section 1442, thus creating a circuit split, the Supreme Court held that a straightforward reading of the removal statute empowers the reviewing court to examine all theories for removal that a district court has rejected. Consequently, the Court remanded the case to the Fourth Circuit where it can decide, "in the first instance," whether there actually exist grounds to remove this case to federal court.