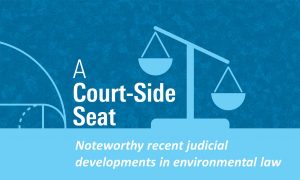 Some very interesting and fairly complex environmental law rulings have been released in the past few days.
U.S. Supreme Court—Trump, et al. v. Sierra Club, et al.
On July 31, 2020, in a 5-to-4 decision, the Supreme Court denied a motion to lift the stay entered by the Court a few days earlier. The earlier action stayed a preliminary injunction issued by the U.S. District Court for the Northern District of California, which had enjoined the construction of a wall along the Southern Border of the United States which was to be constructed with redirected Department of Defense funds. The merits will be addressed by the lower court and perhaps the U.S. Court of Appeals for the Ninth Circuit.