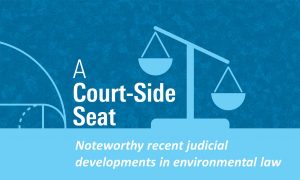 This is a brief report on new environmental law decisions, regulations and legislation.
THE U.S. SUPREME COURT
Massachusetts Lobsterman's Association v. Raimondo, Secretary of Commerce
On March 22, 2021, the Supreme Court rejected a petition to review a Presidential decision to invoke the Antiquities Act of 1906 to designate as a monument "an area of submerged land about the size of Connecticut" in the Atlantic Ocean. This action forbids all sorts of economic activity, which compelled the filing of litigation in the First Circuit challenging this designation. Chief Justice Roberts supported the Court's denial of certiorari, but remarked that a stronger legal case may persuade the Court to review such liberal uses of the Antiquities Act.