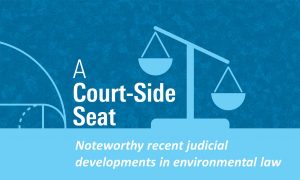 February saw the usual array of significant environmental decisions and federal regulatory notices.
THE FEDERAL COURTS
U.S. Court of Appeals for the District of Columbia
Luminant Generation v. EPA
The court will be grappling with a difficult venue case governed by the Clean Air Act (42 USC Section 7607(b)). In 2013, the U.S. Court of Appeals for the Fifth Circuit decided the case of Luminant Generation v. EPA (714 F. 3d 841), in which the court upheld the affirmative defenses that were made part of the Texas State Implementation Plan (SIP) and which applied to certain unpermitted emissions from regulated sources during periods of startup, shutdown or malfunction. These defenses were challenged in the Fifth Circuit and were rejected. On the national stage, EPA has been involved in litigation over these affirmative defenses and recently excluded from a "SIP Call" the Texas program, which was carved out. This EPA decision is being challenged in the DC Circuit (see Case number 20-1115),with the State of Texas arguing as an intervenor that any issues involving Texas belong in the Fifth Circuit, and not in the DC Circuit because the Act allows regional issues to be decided in the regional federal courts.