The courts continue to be busy issuing significant Endangered Species Act (ESA) rulings. In the latest one, issued in early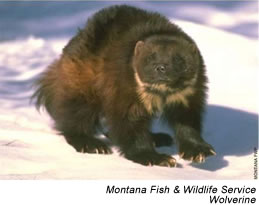 April, the U.S. District Court for Montana, Missoula Division, in Defenders of Wildlife v. Jewell, et al., vacated the U.S. Fish and Wildlife Service's withdrawal of its proposed listing of the North American Wolverine as an endangered species in its 85-page opinion. The opinion includes a very interesting account of the Service's internal struggles to grapple with the import of this listing, and the reliance it placed on climate change modeling, which generated considerable criticism.These decisions are always noteworthy because of the implications on development projects. One such implication is a listed species must be considered in federal permitting matters.
The North American wolverine, Gula gulo luscus, sometimes referred to as the "mountain devil," is the largest terrestrial member of what is commonly known as the weasel family. The species'  numbers are fairly small — "[w]hile the reclusive nature of the wolverine makes it nearly impossible to know for certain, it is estimated that no more than 300 individuals live in the contiguous United States." Due to its small stature, it "is custom-built for life in mountainous, snowy environments, and relies upon snow for its existence at the most fundamental level." "Wolverines carve out relatively large home ranges for animals of their size;" female "maintain an average home range of 148 square miles in central Idaho, 55 square miles in Glacier national Park, and 128 square miles in the Greater Yellowstone region" and males "maintain an
average home range of 588 square miles in central Idaho, 193 square miles in Glacier National Park, and 311 square miles in the Greater Yellowstone region." The District Court noted that "[t]he effort to list the wolverine as a threatened or endangered species began over twenty years ago, and has continued unabated since that time," until recently.
Ultimately, the District Court held that the decision to withdraw this proposed listing was unduly influenced by "immense political pressure" brought to bear on the Service, and its regional offices by a handful of western states.  Moreover, the comments made by a regional director of the Service who was asked to participate in the internal reviews and who criticized the climate models were nothing more than "an unpublished, unreviewed, personal opinion" and were given undue weight. Several energy interests intervened, but the court dismissed their basic argument that the ESA cannot be interpreted to protect subspecies (such as the North American Wolverine) were "unnecessarily and insupportably restrictive", and "defies logic." Accordingly, the District Court ordered the Service to reconsider its decision.
Additional Sources:  A Patchwork of Plans Keep a Lizard Off the Endangered Species List; The Fish and Wildlife Service Lists the Lesser Prairie-Chicken as a Threatened Species Under the Endangered Species Act; Texas Court Vacates ESA Listing of Lesser Prairie Chicken as a Threatened Species; "Critical Habitats" Remain a Source of Critical Uncertainty for Builders
Photo:  USFWS – Pacific Region, North American Wolverine, Taken Mar. 16, 2011 – Creative Common