The Ivanpah Solar Electric Generating System — the largest concentrating solar power (CSP) plant in the world — officially opened on February 13, 2014.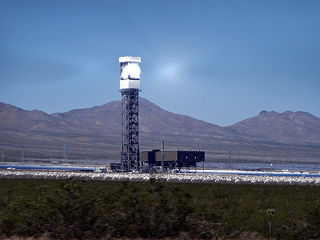 According to its website, "[l]ocated in the Mojave Desert, Ivanpah has 347,000 garage door-sized mirrors distributed across 173,500 heliostats. The heliostats track with the sun so that the mirrors can efficiently reflect its rays up to boilers that sit on top of the facility's three towers." In turn, the U.S. Department of Energy Department (DOE) boasts that Ivanpah has the ability to generate 392 MWs of electricity — enough to power 94,400 average American homes — most of which will be sold under long-term power purchase agreements to Pacific Gas & Electric Company and Southern California Edison Company. The project is a joint effort between NRG Energy Inc., Google, and BrightSource Energy, Inc.
The DOE reported that Ivanpah is one of five CSP projects that received loan guarantees from the DOE's Loan Program Office (LPO). As the first commercial deployment of innovative power tower CSP technology in the U.S., the Ivanpah project was the recipient of a $1.6 billion loan guarantee from the LPO. When the five projects are completed, they will provide a combined 1.26 GWs of electric capacity. The DOE also reported that the LPO loan guarantees are helping to finance the first solar thermal storage project and the first power tower with solar thermal storage in the U.S., as well as some of the world's largest parabolic trough CSP plants.
Additional Sources: U.S. Department of Energy; Ivanpah Solar Electric Generating System; San Jose Mercury News; BrightSource Energy, Inc.; Bechtel Corporation; NRG Energy, Inc.
Photo: Craig Dietrich, Taken Sep. 27, 2013 – Creative Commons