On February 5, 2016, the U.S. Court of Appeals for the Eleventh Circuit, in the case of Palmer Ranch Holdings, LTD, et al., v. Commissioner of Internal Revenue, issued a long and complex ruling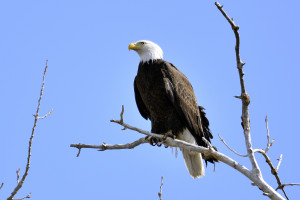 that largely affirms the Tax Court's decision regarding a contested evaluation of a conservation easement that resulted in significant claimed deductions. Perhaps somewhat surprisingly, the Tax Court sided with Palmer Ranch on its valuation of the conservation easement and the Eleventh Circuit went onto voice concern that the valuation was lowered from $25 million to $21 million by the Tax Court.
The American Bald Eagle has a nest on a portion of an 82 acre tract located in Sarasota County, FL. That portion also serves as a "wildlife corridor", and concerns over the presence of the eagle, the corridor and wetlands thwarted the plans of the property owners to sell the land for residential development (apparently large enough to build hundreds of units). To obtain the necessary local permission, in 2006, the owners of the property donated a portion of the land to Sarasota County in the form of a conservation easement, for which they took substantial deductions in their 2006 income tax returns.
Thereafter, the IRS challenged the deduction, which was based on the owners' evaluation of the easement as being over $25 million. The IRS argued that the easement, based on the highest and best use of the property, should be valued at $7.7 million, and the owners challenged the IRS's determination in the Tax Court.
The Tax Court ruled in favor of the owners, but reduced the valuation of the conservation easement to $21 million. On appeal, the Eleventh Circuit largely upheld the Tax Court, but remanded the case to the Tax Court for additional explication of its reasoning by which the figure was lowered to $21 million.
The rulings by both the Tax Court and Eleventh Circuit should provide some hope to any landowner who finds their property burdened by environment rulings or findings.
Photo: Schriever photographer snares elusive bald eagle photos, Bill Evans, 50th Space Wing multimedia photographer, captured several photos of a bald eagle near its nest in southern Colorado Springs March 25 – Creative Commons