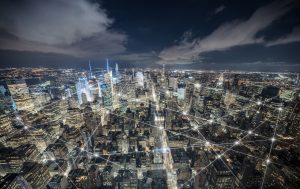 Over the last several years, the proptech movement has become entrenched in the lexicon of the real estate industry as developers use the term as a catch-all term for using technology in the construction of new commercial buildings and begin planning for Smart Cities. The various technologies incorporate wireless sensors, broadband service and other cloud-based applications to reduce energy costs, improve transportation and enhance security.
At the same time, the introduction of these technologies increases the likelihood that property owners will need to incorporate an extra layer (or two) of due diligence when incorporating these services. Not only do many Internet of Things (IoT) devices use wireless spectrum to communicate with other devices, but recent actions by the Federal government have led to the prohibition of certain equipment manufactured in China. The Federal Communications Commission (FCC) has primary responsibility over devices that use wireless spectrum and also implements federal policy with respect to devices that may implicate national security concerns.
With that in mind, here are a few considerations for real estate developers to keep in mind when incorporating the newest technologies into their plans.
5G Rollout Can Provide New Revenue Opportunities.
One of the keys to developing the IoT ecosphere is building out a reliable network that integrates wireless technologies. Over the past several years, wireless carriers and product developers have been busy building wireless networks and products that are based on 5G technology. Networks built to operate on a 5G-based platform will provide substantially higher speeds with less delay (latency) between points. While most readers are aware of the term "5G" from the never-ending mobile phone advertisements, device manufactures have begun to utilize 5G technology for commercial applications as well.
For real estate developers, wide-scale implementation of 5G technology raises exciting new business opportunities. First, because the newer 5G wireless networks are using higher spectrum bands, the distance between cell sites must be substantially less than with prior wireless technologies. As a result, there will be greater demand for leasing space on buildings for new antennas, especially in urban areas.
Second, because the majority of 5G networks rely on the higher spectrum bands with reduced propagation characteristics, there will be greater difficulty in receiving 5G signals inside of buildings. As such, many property owners are now negotiating Distributed Antenna System (DAS) agreements with the major wireless providers, which offers a potential new revenue stream. These DAS agreements permit wireless service companies to install micro-repeaters or nodes within large buildings and campuses to ensure that their customers continue to receive service. In the future, these systems will serve as the platform for IoT devices to provide a variety of "smart" services, including environmental sensing, remote monitoring for maintenance purposes, and other artificial intelligence applications.
Devices Using Spectrum Must Comply with Federal Regulations.
This explosion of connected IoT devices will be possible only if the devices do not cause interference to each other. Most IoT devices are designed to either emit or receive radio frequency (RF) energy to carry out their duties. These devices must be designed to operate in accordance with technical standards to ensure that unintended interference is not created through their operation. These devices must also be tested before they are sold to the public.
In the United States, the FCC has the primary responsibility to develop and implement these procedures. These procedures include requirements for manufactures to (i) test their RF devices before marketing or sales occur, (ii) label their RF devices with identifying information, and (iii) provide compliance information in user manuals or other documents so that consumers will know how to resolve interference issues or contact the manufacturer.
Additionally, the FCC has implemented a rigorous enforcement regime that monitors the marketplace and investigates complaints of interference or non-compliance with its rules. In recent years, it has launched industry-wide investigations into non-compliant LED lighting and conducted investigations of retail establishments to ensure that products are properly tested and labeled. With the growing use of connected devices, it is likely that these enforcement efforts will be enhanced, as evidenced most recently by the proposed increase in the 2023 budget of the FCC's Enforcement Bureau.
As a result, real estate property owners and contractors should take steps to confirm that RF devices installed at their sites are compliant with FCC regulations. Terms and conditions should be integrated into contracts to require all products to conform with FCC regulations, and the parties should establish remediation and indemnification procedures in the event that such conditions are not satisfied.
Certain Manufacturers Are Prohibited for Federal Grant Programs and Buildings.
Finally, it is important to note that the FCC has also been tasked with identifying devices that may raise national security concerns. In response to requirements set forth in the National Defense Authorization Act for Fiscal Year 2019 and the Secure and Trusted Communications Networks Act of 2019, the FCC developed a list of "covered equipment and services" that "pose an unacceptable risk to the national security of the United States or the security and safety of United States persons."
Federal agencies are prohibited from using federal funds to purchase, or issue grants to purchase, the covered equipment or services, and the FCC is in the process of implementing a $2 billion program to remove and replace existing covered equipment and service owned by telecommunications carriers. These requirements are also incorporated into the Federal Acquisition Regulation (FAR), which requires federal contractors to certify compliance.
* * *
The introduction of innovative technology into building projects will help differentiate proposals and add new revenue streams. At the same time, property owners and builders responsible for implementing these plans should adopt rigorous due diligence procedures to ensure that products and services comply with federal regulations intended to the protect the public from interference and national security concerns.
---
RELATED ARTICLES
Smart Building and Smarter Protocols: Mitigating IoT Cybersecurity Risks in Commercial Real Estate
Smart Construction and the Future of the Construction Industry